4- The two-for-one of applying eyeliner directly to your eyelash curler is a waste of time. (And makeup!)
We were skeptical upfront, but this hack is still all over the internet — so we tried it anyway. The results were super uneven.
5- Vinegar and lemon doesn't work in place of nail polish remover.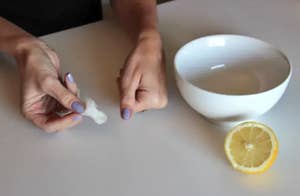 Not at all, actually. Just buy the remover!
6- To make DIY tinted moisturizer, mix equal parts of your daily moisturizer + your foundation.
To start, try one pump of each. No need to shell out for a separate product.